School has made me neglect Asian YA for a while now, but now that it's May, one of the best book release months this year in my humble opinion, I decided to launch this new feature. I'll be highlighting book releases I think are especially notable each month. Feel free to contact me with future releases you think are valuable as well, I'll try to cover as many as I can.
May is a really strong month for cute contemporaries, the highly anticipated Flame in the Mist aside, which is amazing considering that cute and fluffy reads are much harder to find with diverse books in general, although 2017 is proving to be a strong year for diverse books. Here are a handful of books that you should keep your eye out for, especially because it is Asian-American History Month!
Published: May 2nd 2017
Publisher: Simon & Schuster Books for Young Readers
Purchase: Amazon / Barnes & Noble / Book Depository

Lara Jean is having the best senior year a girl could ever hope for. She is head over heels in love with her boyfriend, Peter; her dad's finally getting remarried to their next door neighbor, Ms. Rothschild; and Margot's coming home for the summer just in time for the wedding.

But change is looming on the horizon. And while Lara Jean is having fun and keeping busy helping plan her father's wedding, she can't ignore the big life decisions she has to make. Most pressingly, where she wants to go to college and what that means for her relationship with Peter. She watched her sister Margot go through these growing pains. Now Lara Jean's the one who'll be graduating high school and leaving for college and leaving her family—and possibly the boy she loves—behind.

When your heart and your head are saying two different things, which one should you listen to? - Goodreads
Published: May 2nd 2017
Publisher: Amulet Books
Purchase: Amazon / Barnes & Noble / Book Depository

It's the start of Jordan Sun's junior year at the Kensington-Blaine Boarding School for the Performing Arts. Unfortunately, she's an Alto 2, which—in the musical theatre world—is sort of like being a vulture in the wild: She has a spot in the ecosystem, but nobody's falling over themselves to express their appreciation. So it's no surprise when she gets shut out of the fall musical for the third year straight.

Then the school gets a mass email: A spot has opened up in the Sharpshooters, Kensington's elite a cappella octet. Worshiped ... revered ... all male. Desperate to prove herself, Jordan auditions in her most convincing drag, and it turns out that Jordan Sun, Tenor 1, is exactly what the Sharps are looking for. - Goodreads
Published: May 9th 2017
Publisher: HarperTeen
Purchase: Amazon / Barnes & Noble / Book Depository
Shabnam Qureshi is a funny, imaginative Pakistani-American teen attending a tony private school in suburban New Jersey. When her feisty best friend, Farah, starts wearing the headscarf without even consulting her, it begins to unravel their friendship. After hooking up with the most racist boy in school and telling a huge lie about a tragedy that happened to her family during the Partition of India in 1947, Shabnam is ready for high school to end. She faces a summer of boredom and regret, but she has a plan: Get through the summer. Get to college. Don't look back. Begin anew.

Everything changes when she meets Jamie, who scores her a job at his aunt's pie shack, and meets her there every afternoon. Shabnam begins to see Jamie and herself like the rose and the nightingale of classic Urdu poetry, which, according to her father, is the ultimate language of desire. Jamie finds Shabnam fascinating—her curls, her culture, her awkwardness. Shabnam finds herself falling in love, but Farah finds Jamie worrying.

With Farah's help, Shabnam uncovers the truth about Jamie, about herself, and what really happened during Partition. As she rebuilds her friendship with Farah and grows closer to her parents, Shabnam learns powerful lessons about the importance of love, in all of its forms. - Goodreads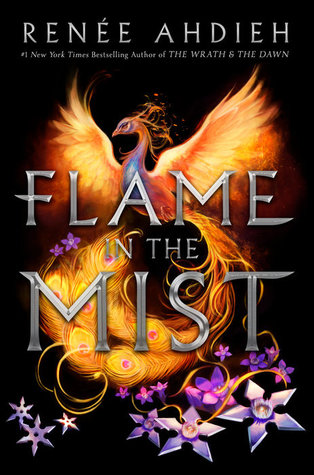 Published: May 16th 2017
Publisher: G.P. Putnam's Sons Books for Young Readers
Purchase: Amazon / Barnes & Noble / Book Depository

The daughter of a prominent samurai, Mariko has long known her place—she may be an accomplished alchemist, whose cunning rivals that of her brother Kenshin, but because she is not a boy, her future has always been out of her hands. At just seventeen years old, Mariko is promised to Minamoto Raiden, the son of the emperor's favorite consort—a political marriage that will elevate her family's standing. But en route to the imperial city of Inako, Mariko narrowly escapes a bloody ambush by a dangerous gang of bandits known as the Black Clan, who she learns has been hired to kill her before she reaches the palace.

Dressed as a peasant boy, Mariko sets out to infiltrate the ranks of the Black Clan, determined to track down the person responsible for the target on her back. But she's quickly captured and taken to the Black Clan's secret hideout, where she meets their leader, the rebel ronin Takeda Ranmaru, and his second-in-command, his best friend Okami. Still believing her to be a boy, Ranmaru and Okami eventually warm to Mariko, impressed by her intellect and ingenuity. As Mariko gets closer to the Black Clan, she uncovers a dark history of secrets, of betrayal and murder, which will force her to question everything she's ever known. - Goodreads
Published: May 30th 2017
Publisher: Farrar, Straus and Giroux (BYR)
Purchase: Amazon / Barnes & Noble /

Desi Lee knows how carburetors work. She learned CPR at the age of five. As a high school senior, she has never missed a day of school and has never had a B in her entire life. She's for sure going to Stanford. But—she's never had a boyfriend. In fact, she's a disaster in romance, a clumsy, stammering humiliation-magnet whose botched attempts at flirting have become legendary with her friends. So when the hottest human specimen to have ever lived walks into her life one day, Desi decides to tackle her flirting failures with the same zest she's applied to everything else in her life. She finds her answer in the Korean dramas her father has been obsessively watching for years—where the hapless heroine always seems to end up in the arms of her true love by episode ten. It's a simple formula, and Desi is a quick study. Armed with her "K Drama Rules for True Love," Desi goes after the moody, elusive artist Luca Drakos—and boat rescues, love triangles, and fake car crashes ensue. But when the fun and games turn to true feels, Desi finds out that real love is about way more than just drama. - Goodreads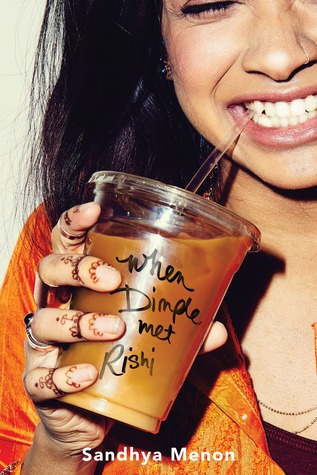 Published: May 30th 2017
Publisher: Simon Pulse
Purchase: Amazon / Barnes & Noble / Book Depository

Dimple Shah has it all figured out. With graduation behind her, she's more than ready for a break from her family, from Mamma's inexplicable obsession with her finding the "Ideal Indian Husband." Ugh. Dimple knows they must respect her principles on some level, though. If they truly believed she needed a husband right now, they wouldn't have paid for her to attend a summer program for aspiring web developers…right?

Rishi Patel is a hopeless romantic. So when his parents tell him that his future wife will be attending the same summer program as him—wherein he'll have to woo her—he's totally on board. Because as silly as it sounds to most people in his life, Rishi wants to be arranged, believes in the power of tradition, stability, and being a part of something much bigger than himself.

The Shahs and Patels didn't mean to start turning the wheels on this "suggested arrangement" so early in their children's lives, but when they noticed them both gravitate toward the same summer program, they figured, Why not?

Dimple and Rishi may think they have each other figured out. But when opposites clash, love works hard to prove itself in the most unexpected ways. - Goodreads
You'll also find this post on Asian YA.