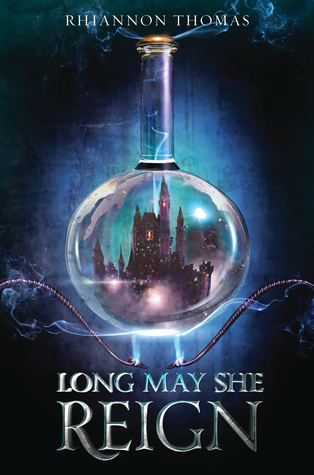 Published:
February 21st 2017
Publisher:
HarperTeen
Purchase:
Amazon
/
Barnes & Noble
/
Book Depository
Freya was never meant be queen. Twenty third in line to the throne, she never dreamed of a life in the palace, and would much rather research in her laboratory than participate in the intrigues of court. However, when an extravagant banquet turns deadly and the king and those closest to him are poisoned, Freya suddenly finds herself on the throne.
Freya may have escaped the massacre, but she is far from safe. The nobles don't respect her, her councillors want to control her, and with the mystery of who killed the king still unsolved, Freya knows that a single mistake could cost her the kingdom – and her life.
Freya is determined to survive, and that means uncovering the murderers herself. Until then, she can't trust anyone. Not her advisors. Not the king's dashing and enigmatic illegitimate son. Not even her own father, who always wanted the best for her, but also wanted more power for himself.
As Freya's enemies close in and her loyalties are tested, she must decide if she is ready to rule and, if so, how far she is willing to go to keep the crown. - Goodreads
I was so excited to read this book when I saw my request had been approved, especially because of how fantastic the premise sounded. Political turmoil, especially among royalty, is something I'm always intrigued by. On paper, this book should have worked for me, with its solid qualities, but I found myself only mildly impressed.
The book starts out promisingly with Freya, the heroine, attending the fateful banquet that seals her destiny. I was surprised to find out that she was a scientist, who participates in experiments in her free time. She's resourceful and smart, which I appreciated, and has a level head.
The supporting characters were all warm and likable, though none really stood out to me. First, there's Naomi, Freya's best friend and confidante. Loyal and supportive, the best friend any queen would be lucky to have. Fitzroy, the former king's bastard son. Charming and clever, but with a potential hidden agenda. Finally, there's Madeline, the beautiful perfect lady, next in line after Freya.
The plot was one of the high points and the author uses Freya's scientist nature in the search for what truly happened the night everyone was poisoned. There is also a political undercurrent with those who are unhappy about Freya, and the different agendas that crisscrossed about her were done well. There were a few solid twists to keep me guessing but I admit I wasn't completely surprised by the finale.
The latter third was a tad of a letdown after the promising start, but the ending was well-done and I liked that it was understated instead of cheesy. I almost wish this weren't a standalone, because I felt that this book could have used more fleshing out.
Overall, I liked this book, but not enough for it to have a lasting hold on my heart or memory. I do want to see more political royal drama type books in YA, and that I sincerely hope this is just the beginning.

Thank you to Edelweiss and HarperTeen for the review copy.
My Rating:★★★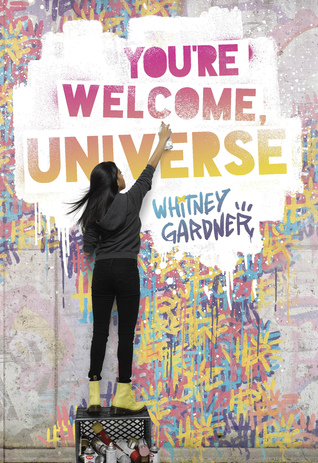 Published:
March 7th 2017
Publisher:
Knopf
Purchase:
Amazon
/
Barnes & Noble
/
Book Depository
When Julia finds a slur about her best friend scrawled across the back of the Kingston School for the Deaf, she covers it up with a beautiful (albeit illegal) graffiti mural.

Her supposed best friend snitches, the principal expels her, and her two mothers set Julia up with a one-way ticket to a "mainstream" school in the suburbs, where she's treated like an outcast as the only deaf student. The last thing she has left is her art, and not even Banksy himself could convince her to give that up.

Out in the 'burbs, Julia paints anywhere she can, eager to claim some turf of her own. But Julia soon learns that she might not be the only vandal in town. Someone is adding to her tags, making them better, showing off—and showing Julia up in the process. She expected her art might get painted over by cops. But she never imagined getting dragged into a full-blown graffiti war. - Goodreads
Much angstier than I was expecting quite honestly and I hadn't realized (my fault) that the graffiti war would get so intense. Julia is an angry girl and I tend to shrink away from such characters, which is why it took more time for me to warm up to her personally, but I liked how strong she was in her convictions and passions, which was admirable.
Julia's blossoming friendship with YP is my favorite thing about this book, mostly because it's sweet and good, something Julia needs in the face of the lonely situation she's ended up in due to the unfortunate consequences of her actions. Julia is a hard shell to crack, but the way she slowly lets YP in was heartwarming, and I loved the girlfriend moments they had together. Friendships are such a valuable aspect of lives and I love that this book focuses on that, where it's the central relationship in the book, besides family. On a random side note, there's a scene where an apple pie shows up at YP's house and as an apple dessert connoisseur I died at the description.
I will admit I've never read a book that deals with deafness in such a visceral way, and it was an eye-opener. Gardner writes Julia's life so clearly and it definitely made me more aware of living as a deaf or Deaf person, such as the nuances between Julia and Jordyn. I cannot vouch for the rep of the Indian culture either, but from what I've seen from other #ownvoices reviews, it's well-rounded.
I also liked how there were some supportive and nice adults in this book, always good to see in YA. Julia may not get along with all of them, which is all too true of life as a teenager or anyone really, yet they play an active role, which is sometimes difficult to find in books. I particularly liked the way Julia's character growth is seen in her interactions with her interpreter Casey and her art teacher Mr. Katz.
The graffiti war is intense, and while I was intimidated by that, I could also sense the urgency and frustration that bled out of Julia every time she sees the mysterious art being added to her tags. Graffiti is her outlet, and having it hijacked is brutal, and I liked how the plot unraveled the mystery and tension surrounding them.
Also, the art/illustrations that go with this book are perfect. Even through reading an electronic copy, I can say the final hard copy will be so pretty. The art is as gritty and statement worthy as the rest of this book is and complements the writing quite well.
My Rating:★★★