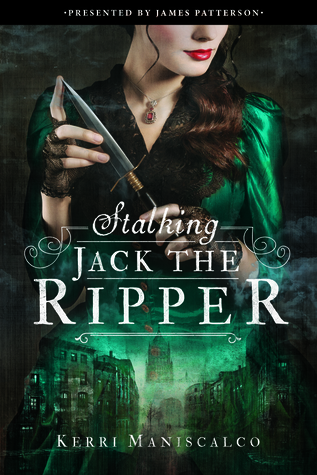 Published:
September 20th 2016
Publisher:
Jimmy Patterson
Purchase:
Amazon
/
Barnes & Noble
/
Indiebound
/
Book Depository
Seventeen-year-old Audrey Rose Wadsworth was born a lord's daughter, with a life of wealth and privilege stretched out before her. But between the social teas and silk dress fittings, she leads a forbidden secret life.
Against her stern father's wishes and society's expectations, Audrey often slips away to her uncle's laboratory to study the gruesome practice of forensic medicine. When her work on a string of savagely killed corpses drags Audrey into the investigation of a serial murderer, her search for answers brings her close to her own sheltered world. -
Goodreads
Hello everyone! As a member of the Knights of Whitechapel, I'm posting about Stalking Jack the Ripper, which is out on September 20th, a little more than a month away. Luckily, I've had the pleasure of getting to read this book already, and I wanted to share a few fun quotes from this book.
Let's start off with some blood and murder, because who can talk about Jack the Ripper without some gory details? Personally I'm not too fond of dead bodies, but Audrey Rose is a girl who is surprisingly composed in the face of death, excepting rare occasions such as this one.



Everything was most certainly not okay, and this was no mathematical equation; my hands were covered in sticky blood. I frantically wiped them off on my bodice, but it was no use. Blood stained my fingers in crimson accusation.




Somehow, someway, I was responsible for this man's death.
And an introduction to my favorite character in this book, Thomas Cresswell. A touch too arrogant, but in the right situations, arrogance can be charming haha. No spoilers, but really, he's a character that I think most, if not all, will love. Especially because he does clean up so well.
"Hurry along, then," I said, grabbing my orchid and securing it safely in my journal. "I want to sit by the window."
"Hmm."
"What now?" I asked, losing patience.
"I usually sit by the window. You may have to sit in my lap."
Also some good old fashioned feminine wit and charm. I adore this quote, not just because it would be a really badass motto, but because it channels girl power so very well.



Wield your assets like a blade, Cousin. No man has invented a corset for our brains. Let them think they rule the world. It's a queen who sits on that throne. Never forget that. There's no reason you can't wear a frock to work, and don the finest gown and dance the night away. But only if it pleases you.
I'll be posting a review for this book closer to release next month, so look out for my detailed thoughts on this book then.
Kerri Maniscalco grew up in a semi-haunted house outside NYC where her fascination with gothic settings began. In her spare time she reads everything she can get her hands on, cooks all kinds of food with her family and friends, and drinks entirely too much tea while discussing life's finer points with her cats.


Goodreads | Twitter | Facebook | Instagram | Website | Tumblr | Pinterest