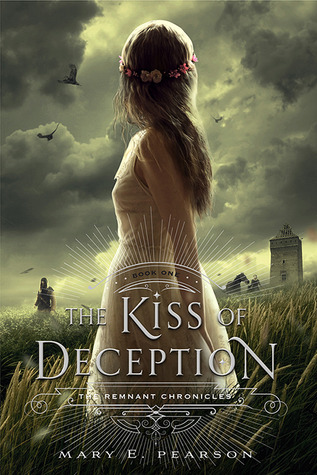 Published:
July 8th 2014
Publisher:
Henry Holt
Purchase:
Amazon
/
Barnes & Noble
/
Book Depository
A princess must find her place in a reborn world.
She flees on her wedding day.
She steals ancient documents from the Chancellor's secret collection.
She is pursued by bounty hunters sent by her own father.
She is Princess Lia, seventeen, First Daughter of the House of Morrighan.
The Kingdom of Morrighan is steeped in tradition and the stories of a bygone world, but some traditions Lia can't abide. Like having to marry someone she's never met to secure a political alliance.
Fed up and ready for a new life, Lia flees to a distant village on the morning of her wedding. She settles in among the common folk, intrigued when two mysterious and handsome strangers arrive—and unaware that one is the jilted prince and the other an assassin sent to kill her. Deceptions swirl and Lia finds herself on the brink of unlocking perilous secrets—secrets that may unravel her world—even as she feels herself falling in love.
-
Goodreads
This book seems to evoke both ends of the emotional spectrum for most, and starting this book, I was a little hesitant on whether I would fall into the negative side, considering how Pearson's earlier books were not quite my type of read. But fear not, this book caught me hook line and sinker, with the kind of intensity I was not expecting. It's a slow read, like a
flower unfurling its petals
, and at a point I can't particularly pinpoint, I was fully immersed in the characters and their unwinding fates.
If I could only reach out and touch the stars, I would know everything. I would understand.
As someone who feels particularly negative towards romantic polygons, I was wary of the hint of the two decidedly male characters who appeared in the synopsis, all but declaring that there would be a love triangle. Fortunately, the suspense of the mystery behind the identities of both males made the first part less odious than expected. Call me morbid but having an assassin around more often than not sparks up some interesting dynamics in the character relationships, especially in conjunction with a prince. I spent a good deal of the book anticipating and speculating over which of the characters was which, and I'm happy to say that I was rather taken by surprise and the two males are quite difficult to pinpoint, with
clever
character development and intriguing appearances all the more better to disguise their true intentions.
"Some things last."I faced him. "Really? And just what would that be?""The things that matter."
But of course who is a commendable love interest without a worthy partner? Lia, our heroine is a brave-hearted girl, despite her slightly wishful tendencies, and at heart she is true and fierce, making her a
worthy candidate
for her illustrious title. She had my sympathy from the start with her political bindings, and while she may seem rather too winning in her new-found role after running away, there is a strength in her that brought out admiration and love. Even with the introduction of potential romance between some of the characters, she never seems flighty, and her earnest belief in the power of love touched my heart. Towards the end, we see Lia tap into her inner strength, and I am excited to read the sequel in hopes of seeing more of that aspect shown.
"And if one can't be trusted in love," I added, "one can't be trusted in anything."
Of course I have a favorite character, and in hopes of keeping the surprise of his identity intact I will not mention names, but the assassin has slowly crept into my heart, which is not surprising, with my tendency to develop a soft spot for
morally unsound
souls and their various shades of gray. As for the prince, he is equally handsome and charming, it is almost unfair how these two must be put in the same book for readers and Lia to favor one over the other. Loyalty and love, both emotions run deep into this book and propels the trio towards a rather compelling finale, with dangerous stakes teetering on each side.
Maybe there was no way to define it. Maybe there were as many shades of love as the blues of the sky.
There is also the fantasy of the magic that whispers and echoes through the book, which was not explored too much due to reasons, but has laid out a solid groundwork for the sequel to build upon and introduced roots of history that revolve around Lia. Speaking of history, the cultures within the different regions in the book are developed carefully and reflect the dangerous power dynamic fraught with tensions well, reminding me of some of my favorite fantasy books.
The writing while leisurely paced, did not mince with the blades of tension and danger, thrilling the inner fantasy lover in me. While it is written in first person, which usually deters me in fantasy I enjoyed reading this book once I became accustomed to its stride and speed.
This book sharply veers into much more dangerous territory towards the latter third, and I am quite pleased with the implications of these actions. The less you know the better, but as always, power and deception are quite the pair, with aftereffects that are catastrophic beyond repair. It is a relief to know the sequel is within grasp and I cannot wait to return to the world of the Remnant Chronicles.