Bleeding Hearts
Title:
Bleeding Hearts (The Drake Chronicles #4)
Author:
Alyxandra Harvey
Published:
December 20th 2011
Publisher:
Walker Books for Young Readers
Purchase:
Amazon
/
Barnes&Noble
/
Book Depository
Violet Hill is under attack by the ruthless Hel-Blar vampires, who are determined to take their rightful place alongside the other vampire clans at the Blood Moon. The Royal Drakes might be powerful, but their love for a mere human—Lucy—makes them vulnerable. The Hel-Blar don't count on targeting Lucy's innocent cousin Christabel by mistake.  And Christabel didn't count on finding such drama in a sleepy town like Violet Hill—or being rescued by a vampire as tempting as Connor Drake. - Goodreads Summary
We're back to Lucy's POV, although there's the introduction of Christabel, who gets her own POV and is Lucy's cousin. She and Connor share sparks, which was cute to read about since they were so sweet together. What I do like about this series is that it's not just romance, but there's a pretty well-developed plot and structured vampire society that exists and we get to learn about the different types in addition to the political struggle that exists due to Solange's prophecy. And it's balanced nicely with the snarky humor and the cute and swoony romance which makes this series a gem to read. Also, Nicholas and Lucy are pretty much the perfect couple and I love them together so damn much.
My Rating: ★★★★
Blood Moon
Title:
Blood Moon (The Drake Chronicles #5)
Author:
Alyxandra Harvey
Published:
June 19th 2012
Publisher:
Walker Childrens
Purchase:
Amazon
/
Barnes&Noble
/
Book Depository
When the vampire tribes convene for the rare Blood Moon ceremonies, Solange Drake is plunged into a battle with her feral nature. The Drake brothers have been raised knowing that they had to protect their younger sister at all cost. But forbidden magic and a mysterious stranger have put them all in terrible danger.

Nicholas is going to have to make a difficult choice: between his girlfriend, Lucy, and his little sister, Solange- blood, or love? - Goodreads Summary
In this book, besides Lucy and Solange, we had Nicholas's POV, which was one of my favorite parts of this book. The tables have shifted far from the first book when we had Solange's POV, and the build-up in the last few books doesn't disappoint, as Solange finds herself in a very dangerous place, emotionally and physically. On the other hand, Lucy is fiercer than ever, and I loved her loyalty and especially her courage. And lastly, Nicholas, who I love so much, made this book an absolute joy, especially since the plot took a surprising turn on his part, which gave me some heart-wrenching moments that made my toes curl.
My Rating: ★★★★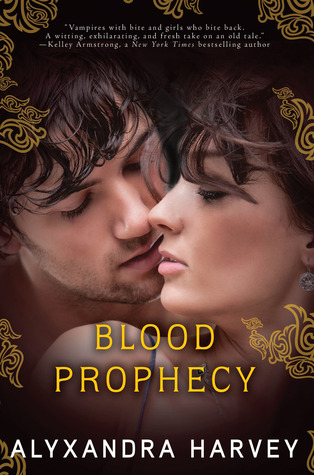 Blood Prophecy
Title:
Blood Prophecy (The Drake Chronicles #6)
Author:
Alyxandra Harvey
Published:
December 24th 2012
Publisher:
Walker Childrens
Purchase:
Amazon
/
Barnes&Noble
/
Book Depository
Solange Drake has been officially crowned Queen of the Vampires, fulfilling the centuries old prophecy that foretold the rise to power of a daughter born to an ancient vampire line. Except Solange's thoughts and actions are no longer her own-she's been slowly being possessed by the spirit of Viola, the first daughter born into the Drake line, since her bloodchange. And instead of uniting the vampire tribes under the rule of an ancient daughter as the prophecy predicted, Viola would rather destroy them all and enslave humans in a personal vendetta for the devastation both wrought to her life centuries ago. Can Solange break her hold in time to save everyone she loves from a vampire civil war, hunter attack, and each other? Not everyone will survive the prophecy . . . perhaps not even her. - Goodreads Summary
The conclusion of this series was, as a whole, quite satisfying. There was kick-butt action and drizzle of romance, snarky remarks and a few plot twists that were a pleasant jolt of surprise. I feel like the series started off strong before it dipped as we approached the end, but I am still very fond of the cast of the characters and I will miss them especially Lucy and Nicholas, a lot. The constant changing of POVs deterred my proper enjoyment, but this is still worth a read if you love the inhabitants of Violet Hill as much as I do.
My Rating: ★★★(3.5 stars)