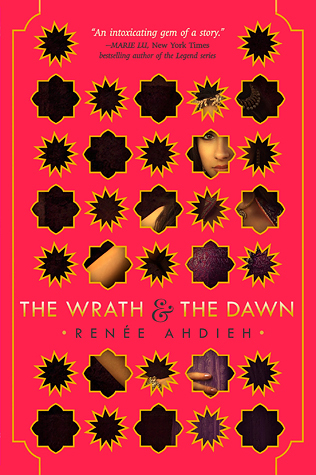 Published:
May 12th 2015
Publisher:
G.P. Putnam's Sons Books for Young Readers
Purchase:
Amazon
/
Barnes&Noble
/
Book Depository
Goodreads: Every dawn brings horror to a different family in a land ruled by a killer. Khalid, the eighteen-year-old Caliph of Khorasan, takes a new bride each night only to have her executed at sunrise. So it is a suspicious surprise when sixteen-year-old Shahrzad volunteers to marry Khalid. But she does so with a clever plan to stay alive and exact revenge on the Caliph for the murder of her best friend and countless other girls. Shazi's wit and will, indeed, get her through to the dawn that no others have seen, but with a catch . . . she's falling in love with the very boy who killed her dearest friend.

She discovers that the murderous boy-king is not all that he seems and neither are the deaths of so many girls. Shazi is determined to uncover the reason for the murders and to break the cycle once and for all.
I have, once again, been ensnared by one of those books. Yes, the ones that have been hyped up to an incredible degree to the point that you start to become disbelieving of the numerous accounts of being slayed to death single-handedly by this book. The Wrath and the Dawn is a mesmerizing read from the first page to the last, full of lyrical descriptions and vibrant characters, creating a story just as magical as the Arabian tales that this book was rooted in. Rather brilliant and magical, this book didn't just break me, it destroyed my soul. Gorgeous prose and intriguing premise, and I adored it.
Shahrzad and Khalid are my new favorite pair, and I loved every interaction between them and the slow-burn and anticipation between these two characters.
"If you are just one girl, I am just a boy."
We start the story with Shahrzad, a girl determined to take down her enemy, the man she is about to marry. The boy-king who rules her land, the one who kills each bride he has the next dawn. After her dearest friend dies, she steps up to take her place.
When she meets Khalid, the king, she is fueled with hatred and propelled by revenge. Their initial interactions are intense and fraught with unspoken meaning, something I greatly enjoyed. They are enemies in that he is intent on killing her, while she only wants to destroy him, but through that there is
something more.
"Promise me you won't kill me,"she breathed back. "I can't do that." "Then there's nothing more to say."
Their relationship is one that is slow but sure, small moments building up into love, one that is like
breathing air.
It is intense and passionate, the kind of rarity that I don't often find myself carried away to gush on about, but this one does.
Even if he was her air. Even if she loved him beyond words.
The supporting characters were not without their own charms, and I must say Despina and Jalal hold rather special meaning to me in particular. They help build the relationship between Khalid and Shahrzad, and I could not help but smile at some of their lines.
Besides this, there's the overarching plot of why Khalid must kill these women each day, tragically ending the lives of these young women. While I must say this part wasn't as difficult to decode from the careful scenes that crafted this book, the rest of the plot was engrossing. The various characters and their roles that lead to the climax I adored, and the shifts of players was interesting to say the least.
The ending of this book blew me away with how heartwrenching it was and time is flowing by all too slowly for me because I want the sequel pronto or as soon as possible. This book is beautiful and definitely worth the read, and I can only hope that there are more gems such as this book to come in the future.
A mini edition of the things I didn't like:

One of the things that detracted from my enjoyment of this book was the multiple changes in point-of-view. This is a pet peeve of mine and it made my head spin a little in the beginning because I could not keep track of some of the minor characters.

I also was a little disappointed at how little Shahrzad's storytelling skills played into this story. While I did love the way the plot unfolded, the synopsis promised more of the magical stories that A Thousand and One Nights is so well known for and that was a small letdown for me.

My Rating: ★★★★ (4 stars)