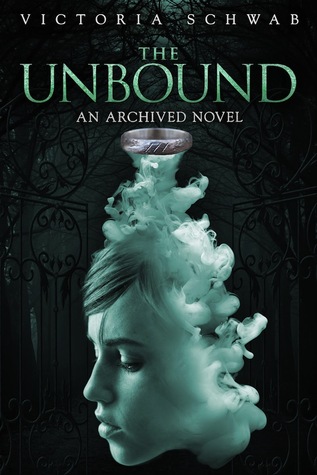 Published:
January 28th 2015
Publisher:
Hyperion
Purchase:
Amazon
/
Barnes&Noble
/
Book Depository
Goodreads
:
Last summer, Mackenzie Bishop, a Keeper tasked with stopping violent Histories from escaping the Archive, almost lost her life to one. Now, as she starts her junior year at Hyde School, she's struggling to get her life back. But moving on isn't easy -- not when her dreams are haunted by what happened. She knows the past is past, knows it cannot hurt her, but it feels so real, and when her nightmares begin to creep into her waking hours, she starts to wonder if she's really safe.

Meanwhile, people are vanishing without a trace, and the only thing they seem to have in common is Mackenzie. She's sure the Archive knows more than they are letting on, but before she can prove it, she becomes the prime suspect. And unless Mac can track down the real culprit, she'll lose everything, not only her role as Keeper, but her memories, and even her life. Can Mackenzie untangle the mystery before she herself unravels?

While I did enjoy the first book,
The Archived
, this book is my favorite of the two. It's everything the first book was, and then some which was great. The stakes are higher and it left me breathless with anticipation.
Victoria plops us into the aftermath of the first book, where Mackenzie is still recovering from the trauma of the first book's events. She's vulnerable, much more so with the the Archive keeping watch over her and nightmares overtaking her, bleeding into her waking moments. Being in Mac's head was harrowing, with her constant fear and panic palpable throughout. But she has Wesley, her partner-in-crime, the only person who knows her secrets about being a Keeper. Except this time, she knows the risks, which would be hurting
him.
Taking a moment here, I'd like to say that Mac and Wesley are one of my favorite pairs that I have ever read about. They're genuine and full of heart, characters that strengthen each other. Mac is a girl with a chip on her shoulder, but her unwavering strength is inspiring, and her flaws come from trying too hard, something I can easily relate to. Wesley is a true gentleman, despite the guy-liner image he seems to project, and it's touching to see his caring nature while his crooked smile is a welcome spot of sunshine in this book. He is one of my favorite male characters, and how he grounds Mac throughout her nightmares and such are As Keepers, they share the same secret and duty, the one that leaves them isolated from others at times and their close bond is strengthened by how much they seem to care for each other. Speaking of them, this book explores the dimensions of their relationship, and the potential cost it could have, regarding their chances at Crew, the next level in their roles with the Archive.
"Love breaks," he says. "The bond between Crew doesn't. It has love in it, though, and transparency. Being Crew with someone means being exposed, letting them read you — your hopes and wants and thoughts and fears. It means trusting them so much that you're not only willing to put your life in their hands, but to take their life into yours.
Their relationship with each other was given more depth in this book, and I liked how Victoria portrayed the inner conflict Mac has with her Keeper duties and her own feelings, the ones that could endanger him.
...the rock band noise washing over me, pouring in wherever our skin meets. And through his chest and his noise—or maybe in it—I can feel his heart beating, the steady drum of it hitting my palms. And as it echoes through my own chest, all I can think is: Why can't things be this simple?
Meanwhile, mysterious disappearances are occurring around Mac, and as she hunts down clues on the truth behind this set of events, there is a mother lode of secrets and truths tumbling out. It is starkly painful to see Mac searching for answers alone, and props to Victoria for making me swoon and hurt in one breath.
An immensely satisfying sequel, I cannot wait for the next book in
The Archived
series. While there is no set date on the next and final book in this series, I dearly hope it comes sooner than later, as I would love to fall back into the journey of Mac and Wesley, as I can only hope Victoria will deliver a satisfying conclusion.
My Rating: ★★★★ (4.5 stars)